Manifestation Monday
By Rev. Estelle Thibodeau                                                                   
Get your inquiry answered FREE
Mondays at noon
Live Readings by Rev. Estelle
What is in a WORD?                                                                                                                                                  
"In the beginning,was the Word, and the Word was with God and the Word was  GOD. The Word became flesh and dwelt among us."  "In the beginning, God Created the Heavens and the Earth." In the book of Genesis, we learn of his Power.
The Earth was first without form; void, hovering over the face of the water. The face of the water is a reflection of God's will.  Of, and out of water, we can set intentions and what is without form, into something Good. From the void and the darkness; uncertainty from one place into another,  GOD said, "Let there be light!" This sacred spark creates the morning, the evening and the first day.  Darkness is the absence of light, and light is prophecy.  Light by means of creation encompasses intention until it is brought forth into existence.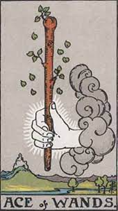 In Tarot, The Ace of Wands represents creation and an observable act  of conviction. It is a fiery stir of excitement into transition between Heaven and Earth. It is the idea, hovering  cloud on cloud.  The air, from water as an unseen thought accumulating.  And like GOD hovering, before there was light, we are free to contemplate, to desire the  manifestation until the idea  takes hold and the hand that firmly grips the wand, is finally thrust  into the air.      
You are invited to Manifest your intention at a live meeting. Please have one question written down on paper and folded prior to joining the Manifestation Monday meeting- Please be specific.  This is a time limited, first come basis. The Rev will draw three cards to answer your inquiry.  You do not need to reveal your question. Please keep in mind, this is a practice and is intended with the Greatest Degree of Love; and please keep in mind:  
"IT IS THE INNER RECEPTIVITY OF INDIVIDUALS THAT GUARANTEES THE AMOUNT OF GOOD MANIFESTED."

"...OUR CREATED BLOCKS OF THOUGHTS BECOME PHYSICALLY MANIFESTED IN TIME…"

 - Dr. Rev. B. Hanshaw & Dr. Rev B.  Selwa
"Your Restoration is what we Pray for.  Aim for Restoration, Comfort one another, live in Peace and the GOD of LOVE and PEACE will be with YOU.  Greet one another with a HOLY kiss, ALL THE SAINTS GREET YOU THIS WAY." 

- Corinthians 12:9 - 12:12
"The foolish ones may be regarded as those who are not yet sufficiently evolved to be able to respond to impulses descending from the higher self and therefore, are not to be blamed."

- Matt:25
"The individual who of his own free will has taken it upon himself to think, speak and act for the better, applies himself with zeal to the work;  not of the Forest, but of the Village."

- Joseph Campbell
---
To Join the Manifestation Monday on GOOGLE live please email Rev. Estelle  at The Seventh Root  or copy and paste Manifestation Mondays at noon.
Google Meet joining info:
Video call link: https://meet.google.com/ndx-cfpc-hgc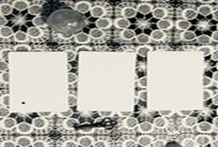 To schedule a session with Estelle or to find out about how you can share the Greatest Good in your life with a reading at https://www.theseventhroot.org/  or by becoming a Minister at  https://www.allianceofdivinelove.org/  or, find us on Facebook.
---
WHAT IN THE  WORD CHALLENGE 
How do you  infest mania into your normally ordinary mundane Monday?  Mania often tis  found in thrill seekers that  maintain set of values that a  fine anatomist  may claim is an unnatural calling to the fight or flight response. Or; and often paired with, the survival of the fittest. This response is often displayed by seamen fit into tiny submarines with limited resources as well as persons sent into Mafia with only a small box of cannoli's. From the pages of an animation fest, admirers of these types of devilish cartoon characters respond to such stimuli with a niftiest moan of  approval. Others declare, "Fine, omit Satan!"  and still,  the humans will fest into amnia because they are always  growling with hunger.   But you, on your Manifestation Monday, have known, you are often, the Saint to Famine, so, naturally, you eat hungrily and greedily when you absolutely must. Furthermore,  If omen attains this infestation of mania (hunger) into a  perceptible thing originating from a force that is a manifestation of God, (the making of bread and wine) then we shall see and know glory when he offers his toast in famine to the world. There will be emanations fit into one fit stamina of our human proportions  which will be received  into our daily practice so that all the world attains fine OM from each and every manifestation realized. 
italic-Anagrams of the word, Manifestation
"All of life's wisdom can be found in anagrams"  
Rev. Estelle Thibodeau