Essence of the Month: Lavender (January 2021)
by Rev. Shellie Enteen
There is no better way to begin the Aromatic Year than with a discussion of Lavender (Lavandula officinalis), as it is generally thought of as "the one essence to have if you can have only one." The beautiful purple flowers have made Lavender a popular garden plant in many countries. From ancient times, it has been used as a strewing, sachet, and bath herb (its name deriving from the Latin lavare, to wash.) For aromatic qualities, the finest Lavender is produced in England, Bulgaria, and France.
It was the beneficial action of Lavender essential oil on the skin that brought it under the scrutiny of French chemist, Renee Gattefosse, in 1930. Gattefosse is known as the Father of modern medical research on essential oils and the term "Aromatherapy."
The ability to soothe and regenerate skin cells makes Lavender an excellent remedy for bruises, cuts, eczema, and insect bites. In acute situations, a drop or two can be applied "neat" to the skin because of the antiseptic and cell regenerating properties, however, it is generally best to dilute all essences in a carrier oil to avoid skin sensitization.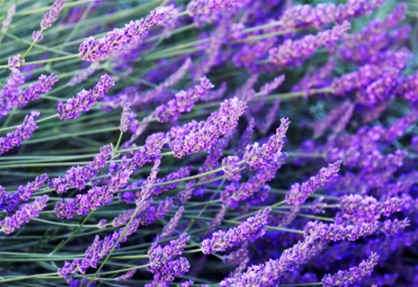 Lavender calms and balances on all levels and is an aid to meditation (just don't use too much...Lavender also promotes sleep!). A sedative for the nervous system, it eases headache, tension, cramps, and pain. It can help lower blood pressure, calm palpitations and is an Aromatherapy favorite for treating muscle spasms, rheumatism, and boosting the immune system in cases of flu, colds, and other respiratory conditions.
Studies have proven Lavender to be extremely effective as an antiseptic. A combination of Lavender with Tea Tree is an aromatically delightful powerhouse antiseptic, antiviral, antifungal blend for use on the body. Added to a base cleaning agent, like distilled white vinegar, it makes a highly effective, healthy household cleaner.

Lavender can be used in small amounts without hesitation during a normal pregnancy, where it eases discomfort in the last trimester and assists during labor. Later, in room diffusion, it calms fretful infants, helps children sleep, and guards the nursery against airborne bacteria and virus.

A classic massage oil blends Lavender with Rosemary. A Lavender/Neroli* bath or applied blend relieves anxiety and sends you off to blissful dreams. Apply a drop to temples for headache, or on a handkerchief for a simple inhalation to ease colds, nausea, or travel sickness. Diffuse Lavender with Lemon or Rose Geranium to peacefully uplift spirits.
Dedicated to Hecate, goddess of witches and sorcerers, Lavender was thought to ward off the "evil eye." Its crystal "relatives" are Fluorite and Amethyst. Assigned to the 7th Chakra and the planet Mercury, the cooling affect of Lavender is beneficial for clear "sight" and rational thinking. Like the "Violet Flame," the purifying, calming and protective qualities of Lavender give this essence a well-deserved place of honor in the plant kingdom and the world of Aromatherapy.
*Neroli is also known as Orange Blossom.

---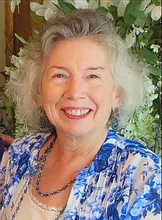 Rev. Shellie Enteen is a Registered Aromatherapist with over 30 years of experience and practice. Shellie has spoken at professional conferences, taught continuing education in Aromatherapy and continues to provide online classes, and continuing education through the SC AHEC (Allied Health Education Corporation). She wrote the column "The Aromatic Message" for Massage Today magazine from 2003-2013 and her articles appeared in Massage Magazine and The Aromatherapy Journal of the National Association for Holistic Aromatherapy, where she served on the Board for nine years as Vice President.
She is available for consultations and online classes. Reach her through her website shellieenteen.com