Seven Simple Guides - September 2021
by Brian L Crissey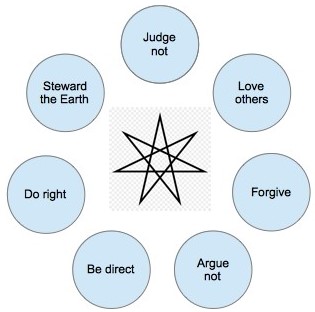 Life gets complicated, and yet the best guidance is often very simple.
The Good Man had some simple suggestions that would be good for us all to follow.


Judge not.
We can never know that we have a correct interpretation of everything that is pertinent to the issue at hand. So we cannot reliably judge. Clarifying information may arrive tomorrow, so don't judge others, or yourself.
---
Love others, including yourself, and seek the highest degree of Love in every situation.
You cannot judge others, so give them and yourself the benefit of the doubt. Speak well of them, and believe nothing ill of them. You do not know the truth, and neither do they.
---
Forgive.
The Good Man was asked how many times we should forgive one another, and he said, "Not seven times, but seventy-seven times." So always forgive. It is part of loving others.
---
Argue not.
No arguments can be won. Speak only your own original thoughts, but remember that even if you were at the time and place, you still do not know. Multiple witnesses always have conflicting memories. Propagating other people's opinions is just gossip. They don't know.

---
Be direct.
If you have an issue with another, speak directly and privately to that person. If you cannot resolve it, bring in another person, trusted by both. Only if that process fails should you bring in other level-headed people.
---
Do right, or as Jesus said, "Do unto others as you would have them do unto you."
You cannot know what the right thing is, but you can choose to do only what feels right deep in your heart. Learn to read and follow your heart.

---
Steward the Earth.
Take care of her all the time, so we can hand her on to our descendants. And treat her so that we can have descendants. They have a right to have a livable planet.