Rev. Ed Carrasquillo - Our Solstice Cairn Maker
By Revs. Brian and Pam Crissey

Here in Western North Carolina, we gathered 20 people around a sacred fire that was started ceremoniously at the moment of solstice at 5:04 a.m. and kept going until sunset. Everyone was smudged, and we carried out the ancient Aboriginal commencement ceremony for gathering around a fire, each one facing the fire, giving a gift, tapping Mother Earth six times and then being joined by the next one to the right, until all tapped together six times and the group was assembled. Led by drummer Rev. Ed Carasquillo, all participants joined in with percussion instruments, and the afternoon was throbbing with positive energy. The sacred fire kept us all warm, and it seemed to be aware of us and seemed to be very happy to have us honor it in this way.
After the ceremony and drumming, Rev. Ed began working with some rocks. And what we discovered was that our own Rev. Ed has a real knack for making cairns as you will see in these pictures. One may think that he took a bit of time to piece it all together, but that was the wonder of it all - he took only a tiny bit of time and right before our eyes it was set up in a matter of moments. Clearly Rev. Ed was dwelling in the Zone with the rocks.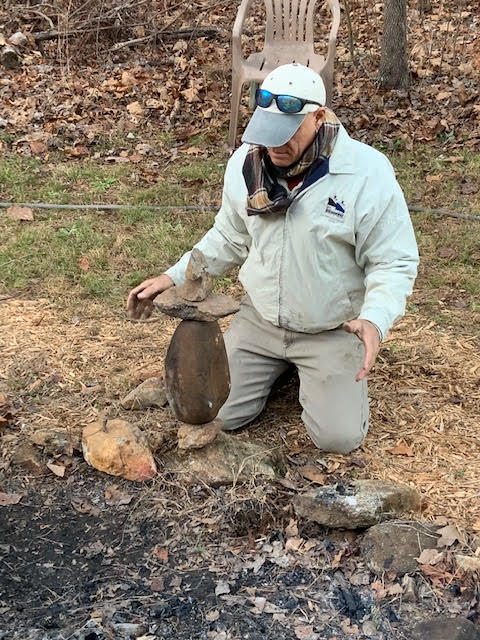 Meanwhile, a portion of a another rock was seen rising from the dirt in the fire pit. This exact fire pit has been used repeatedly over many years with never a sign of this emerging rock. Rev. Pam tried picking it up, but it required Rev. Brian's shovel to dig it out. What appeared was a beautifully egg-shaped rock about 11 inches long that clearly spent many years rolling around in Mother Nature's waters.
Once again, Rev. Ed  built another cairn in moments with the newly emerged rock standing on a tiny one and balancing a few others. This final cairn stood in that place for several weeks ushering us into the New Year.